Activate Good Communication Skills for Better Mentoring Relationships
Discover how to activate better communication skills that can help you build meaningful mentoring relationships.
Akwete, a senior associate at an international law firm, felt nervous going into her first mentorship session with Andrew, a global partner in the same firm. What would a young woman from a working-class Ghanian family find in common with her mentor?
As it turns out, quite a lot! Why? Good communication. Andrew was able to put Akwete at ease during their session by being positive, open-minded, transparent, and concise.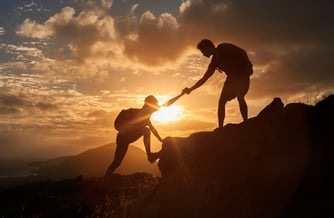 Good communication underpins successful mentoring relationships. By downloading our ebook, 10 Days To Effective Communication For Mentors, you too can become a great communicator.
You'll have access to Cognician's award-winning neuroscience-based methodology, enabling you to take concrete actions that lead to more effective communication and improved results in just 10 days.
Activate eight different communication skills, including:
Active listening
Positive body language
Clarifying their understanding
Being friendly
Assertiveness and displaying confidence
Clarity and succinctness of messages
Giving and receiving feedback
The "10 Days To Effective-Communication For Mentors" ebook contains a complete program to help you activate good communication skills that include:
A survey to assess your current communication skills
10 daily challenges
Meaningful questions to help you reflect on your challenges to facilitate engaging discussions and solidify learning